LOOK AT THIS PHOTO:
If we are going to start a war, we should be able to see what it looks like: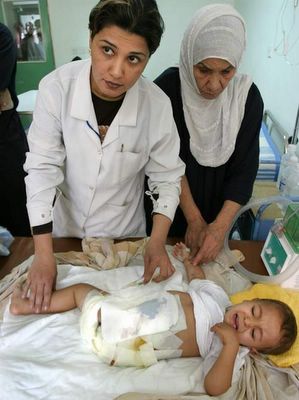 The reality of war.
copyrighted photo
11/14/2004 Iraqi nurse checks child who lost a leg in fightings in Falluja. An Iraqi nurse treats 2 year-old child Mustafa Adnan, at a Baghdad hospital, who lost a leg when his house in Falluja's Jolan district was shelled during fightings between U.S. forces and rebel fighters in the war-torn city November 14, 2004. U.S. tanks shelled and machine-gunned rebels still holding out in Falluja Sunday in heavy fighting that was preventing an Iraqi Red Crescent convoy from getting aid to civilians trapped in the city for six days. (Ali Jasim / Reuters)
I'm not sure where this photo appeared, but the photographer risks his life daily to document a war with vast suffering. We should be able to look at his work. Our work. Bloody babies, screaming women. Fuck this war and the cowboys that started it.
Look at others: